What is a Brandable Domain Name?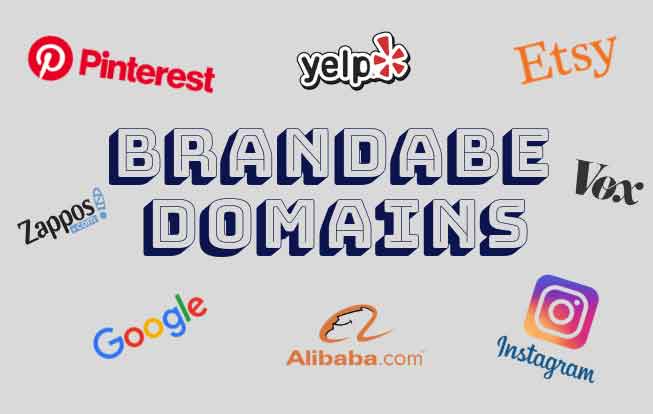 Amazon.com, Etsy.com, Zappos.com, what do these three domain names have in common? One, they represent some of the largest online marketplaces in the world, visited by millions upon millions of people annually. Two, none of these domains have any obvious connection to the products and services the companies that they represent or provide. In fact, two of these domains have no apparent connection to any word in the English dictionary, much less an idea, a product, or a service.
So, what are these quirky, unintuitive business names, and why do many hugely successful companies choose to use them?
These seemingly random and intuitive business domain names are called brandable domains, and in this article, you will learn why they are so powerful, and how to put that power to work for your business by finding and purchasing a brandable of your own.
The Problem with Descriptive Domain Names
Descriptive names, or keyword names, are names that consist only of dictionary words that unambiguously describe either the products or services a business offers, and/or the business's value proposition.
PetSmart.com
Shoes.com
The great part about descriptive names is that the nature of your business. When people see your domain name, they immediately "get it", which saves you time educating your customers on what your brand has to offer.
This upside, however, comes with major downsides.
They are Often Boring: Your goal as a business probably isn't for people to "get it", it's for people to "purchase it". While the on-the-nose approach of descriptive names helps people to understand what your business offers, it does little to inspire them to care. What makes people care? Emotion and intrigue, which descriptive domain names are often sorely lacking in.
They Rarely Stand Out: Unless you are creating a whole new industry with your business, you probably have plenty of competitors with similar offerings to yours. Since there are only a finite amount of relevant keywords to describe any particular business, that means that you will probably have plenty of other companies that are utilizing those same keywords. This can make it hard for people to distinguish your business from the competition, which is the last thing you want from a branding perspective.
They Can Limit Longevity: What your business is at its conception might not be what is 5-10 years down the road. Your business may expand to offer additional products or services or change focus completely. As descriptive names are usually somewhat specific, they can limit your brands ability to expand with your business.
So how do you avoid all these problems? Easy. Use a brandable domain!
Brandable Domain Definition
Brandable domain names are unique, premium domain names that can be used to uniquely identify a particular company or brand. Whereas descriptive names come with a predefined meaning, brandable domains are defined by the brand they represent. They aren't constrained by keywords that are relevant to what a business does. Often, they use are completely made up words, or twists on real words. If they do consist entirely of dictionary words, those words are usually more metaphorical than descriptive.
They can be either registered or unregistered, but they can't be currently be in use. Nor should they have ever been used by another business or one with an established web presence.
Types of Brandable Domains
1. Keyword-based brandable domains are a unique play on a keyword. Usually the keyword will hint at the products services/products your business provides, its positioning, or the emotions your customers will get using your business.
Flickr.com - A play on the word "flicker", as it relates to photography and taking pictures.
Wikipedia.com - A clever combination of "Wiki" and "Encyclopedia".
2. Evocative Brandable Names are names that contain a keyword or are based on a keyword, but a word that has no direct correlation with the products or services your business provides. Instead, great evocative domain names use association and metaphor to paint an emotional picture that speaks to a company's high level purpose or positioning. For example:
Amazon - Conjures feelings of vastness, scale (Amazon's emphasis on the economies of scale).
Uber - In German, it roughly translates to "super, more than any" in German (A superior service to cabs).
3. Vessel Brandable Names are names that are completely made up, and not derived any specific keywords. These domains are completely blank slates. Vessel names allow you to build your brand free of any preconceived biases or opinions, allowing maximum brand control.
That's because vessel names mean nothing before you brand them, and however they are perceived will be solely determined by your branding efforts.
Google.com
Yahoo.com
pinterest.com
Why Choose a Brandable Domain?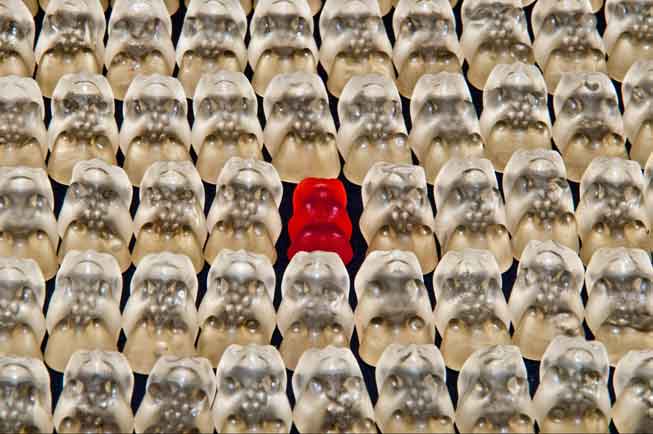 Uniquely Your Own
In the course of starting and building your business, you will invest in branding efforts. With a brandable name, you will have a name that is uniquely you, ensuring that all those efforts don't go to waste. Also, because brandable domains are unique, your website will show up in the top of the results when your name is searched for. This allows your customers to easily find you when they are looking for you, which is a big plus.
Stand Out
If you are starting a business, you are most likely facing a sea of competition from other businesses in your industry that provide similar products and services. Anything you can do to distinguish yourself from your competitors is a major plus. Having a unique brandable name can help your business stand out and get noticed.
They grow with you
Longevity is an important factor in choosing a domain name. The last thing you want to do is put a ton of time and effort into branding a certain domain, only to have to switch to a new domain (and business name) later because your business has outgrown the scope of your domain. As you grow and expand, and begin to offer new products and services, a good brandable domain will grow with you.
Cool Factor
Brandable domains give off a distinctly new, innovative vibe. If you want your business to seem current and cutting edge, a brandable name can help you do that.
Built for catchiness
Because brandable domains aren't limited by their relevance to your business or adherence to the English dictionary, they can be crafted from the ground up for maximum catchiness and memorability.
Can be Used as a Verb
Brandable domain names can easily be turned into a verb, that your customers could potentially use to describe a specific service your business provides. This is because there are no built in assumptions about the domain.
Easy to Trademark
Most commonly used keyword domains are hard to trademark due to so many people using them. Having an invented name based on a keyword allows you to get around this.
Choosing a Brandable Domain Name
Keep it Short: When it comes to brandable domain names, the shorter the better. While quality keyword names can have up to 15 characters, brandable names shouldn't be above 7 characters long.
Make Sure It is Catchy: Having a catchy domain name is important, as you want your business name to capture people's attention and stick with them. The brandable name you choose, should look, feel, and sound fresh and exciting, and be super fun and easy to pronounce. But how do you know if a name that you find catchy will be just as catchy to other people? One great way is to test the name out on your friends. Ask them to tell you the impression they get when they hear it. Then, ask them the next day to recall the name. If they can remember it, that's a good sign.
And Pronounceable: Brandable domains should still adhere to the general rules of branding. There shouldn't be any confusion on how to pronounce the name. It should read like it is pronounced, and not have any unnecessary letters that make it hard to say.
Keyword based or Vessel: Both brandable domain types are good options, but one may be better suited for your business.

If you choose a keyword-based name, make sure it either:
Perfectly encompasses your value position.
Gives people a sense of your positioning or scope.

If you choose a Vessel name, while it isn't based on any keyword, it should still look and feel like a good fit for your specific business.
Common TLD: In 90% of cases, you should stick with a .com domain. Dot-com domains are still the best suited for business, as they convey credibility and trustworthiness. Having an invented name that also has an unfamiliar TLD is almost too much new, and your customers may have a hard time taking your business seriously.
Stand Out Amongst the Competition: One of the main advantages of brandable domains is that they are unique. That's why you want to make sure that your brandable domain isn't too similar, in sound or in feel, to any of your competitors' domains. It's okay if your name bares minor similarities to a business not in your space, but even then, they shouldn't be easy to confuse at all.
Different but familiar: While you want your brandable to be unique and different to competitors, it shouldn't defy the conventions of the English language. Stick to familiar sounds and letter combinations so that you don't throw your customers for a loop.
Longevity - Brandable names are inherently better suited for brand longevity. If you are using a keyword based brandable, make sure it isn't too specific, as that can be limiting in the future.
Make Sure It's Trademarkable - Brandable business names are much easier to trademark than keyword names. But that doesn't mean you shouldn't do your due diligence. There is still the possibility that someone trademarked your name, or a name close to yours. Do a trademark search on your name to make sure it isn't already trademarked.
Not Used Before - A brandable name isn't much of blank slate if a previous failed business used it before. Better to invest your money and branding efforts in a name that has no history.
Registered vs. Unregistered: While there probably are some good brandable domains that haven't been discovered by anyone, finding one is a bit like finding a needle in haystack. Finding unregistered brandable domain names that are also perfect for your business is even harder. By all means give it a go, but generally you should expect to pay a premium for quality.
Buying a Brandable Domain Name
Unregistered Brandable Domains: If you luck out and find a great brandable domain that isn't registered, then the process for buying it is the same as buying any domain. Just go to your preferred domain registry service (like GoDaddy or Uniregistry, add the name to your cart, and complete the checkout.
Already Registered Brandable Domains: Most great brandable names are already registered. Luckily you can buy brandable domain names from our specialized brandable business name marketplace. The process for buying these names is straightforward. Simply select the name you want, complete the checkout process, and follow the instructions for receiving the name.
Action Steps
Now that you have a good idea of what brandable domain names are, how to choose one, and how to purchase it, it's time to take action. Here are some helpful steps to accelerate your journey towards acquiring the perfect domain name for your business.
Determine your budget - What is the most you can afford to spend on the perfect brand name?
Do some soul-searching - Before you start looking at names, create a quick mind map of your business. Jot down some ideas of what your business is, how it is different, and how you want it to be perceived. You'll come back to these ideas later after you have a list of potential names.
Build your list - Browse available domains on a domain name marketplace. Don't judge here. Just choose what immediately appeals to you.
Narrow Your List - Use your mind map (and your intuition) to narrow down your list of names to a shortlist of 3 or less.
Test Your Names: Test your names out on your friends, family, anyone who you can. Get their impressions each and see which ones they can recall the next day.
Purchase Your Name: Once you've chosen your name, it's time to purchase! Make sure the marketplace you're purchasing from is reputable and trustworthy before sending funds.