Restaurant Name Ideas
You're starting a restaurant business, and looking for attractive and exciting brand name ideas. You've come to the right place. Finding the perfect name for your restaurant business shouldn't be a headache, it should be an empowering experience. With that in mind, we've put together an amazing collection of unique, intriguing, and trendy restaurant business idea names to inspire you.
Industry and Competitor Analysis
It's believed the first restaurants popped up in China nearly a millennium ago, serving Northern cuisine in Southern China and Southern cuisine in the North. This was in service of the traders missing their favorite meals as they peddled their wares across China's vast expanse. The West was slow to catch up beyond roadside inns and pubs that offered a limited menu to their overnight guests and other travelers, and the more mobile city vendors hawking meat pies and sweet cakes to a working populace.
Eventually, fine dining, with waiters, private tables, and an ala carte menu, made its way to New York City from Paris and London, but it was in that American melting pot that restaurants became an explosion of color and flavors from around the world they are today. In the 21st Century, restaurants come in endless sizes, foods, and styles, from drive-thru fast food to counter front diners, pizza joints, chain restaurants reaching across an entire region or even continent, cozy outdoor cafes, or tuxedoed waitstaff presenting exquisitely prepared delicacies.
It's a thrilling time to fulfill your restaurant business dreams. In order to make your mark, you will need a restaurant brand name that makes an impact, catching the eye and interest of potential customers and setting you apart from old and new restaurant businesses alike.
A great way to gain valuable insight and inspiration for your own name ideas is to take a look at restaurant businesses that are already established within your own industry. Let's take a look at a few restaurant names across the vast spectrum of foods, styles and dining experiences in the Los Angeles area, and see how those names became a part of our dining lexicon.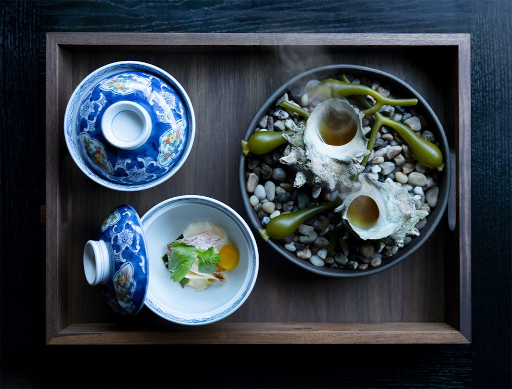 n/naka
Over 60% of Michelin starred restaurants in the Los Angeles area are Asian/Asian fusion. At the top, with two stars, is n/naka, serving the finest traditional kaiseki menu outside of Japan. The name is a portmanteau of owner/chef Niki Nakayama's first and last names and its unique simplicity only enhances its appeal.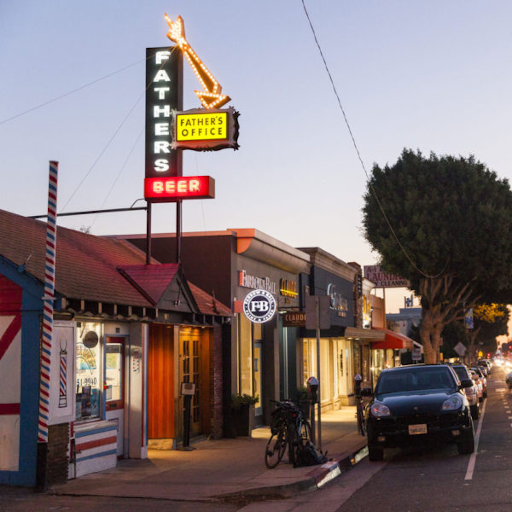 FATHER'S OFFICE
A gastropub, counter service, no reservations, and a list of iron-clad rules (NO KETCHUP!), Father's Office inherited its name from the 1950's speak-easy style hamburger & beer joint current chef/owner Sang Yoon purchased in 2000. Hole-in-the-wall and casual it may be, but the gourmet burgers and craft beer have earned it a Michelin 'Bib Gourmand' rating.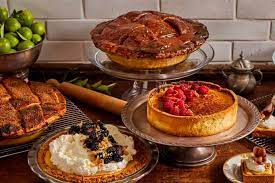 PIE ROOM BY GWEN
Celebrity chef Curtis Stone's Michelin rated restaurant Maude in Beverly Hills was a victim of the pandemic, but Stone has reinvented the space as a sweet and savory pie shop, serving Cornish-style handheld pastries and steamed puddings reminiscent of England and his native Australia and offered up in a casual, friendly atmosphere. The name, and its pairing with Stone's butchershop Gwen, is its own advertisement.
Bé Ù
Serving Vietnamese comfort and street foods with a dash of social justice and affordable prices, owner and chef Uyen Lé chose the name Bé Ù meaning chubby baby in Vietnamese, to highlight her own childhood relationship with food. If the name suggests some life advice to non-Vietnamese customers, it is still the welcoming message Lé embraces.
Brainstorming Name Ideas
There are many effective ways to come up with great name ideas for a business. Here are a few that we at BrandBucket use often, along with BrandBucket name ideas that are ready to purchase immediately, or use as inspiration.


Try Word Association
To generate restaurant name ideas effectively, first brainstorm words related to the industry you are in. This will help you broaden your horizons when it comes to naming possibilities. The best way to do this is to come at the subject from different angles, which will give you the greatest diversity of results.

Having helped thousands of entrepreneurs find the perfect name for their business, we have a good idea of what people are looking for in a name. Here are some name ideas for restaurant-related words that are popular right now. The words I came up with are
asian, fusion, chic, vegan, ethnic.

Generate Name Ideas for Your Specific Niche
The name ideas you come up with will depend on the specific type of restaurant business you are in. Here are some of the main categories of restaurants, along with some relevant name ideas.


Family Restaurants
There can never be too many family diners. In our busy world, a meal with all the family around the table is an opportunity for quality time together. Denny's, Bob Evans, and IHOP are just three of the family restaurant chains that stretch across America, but local diners offering fresh, family fare can be a real hit with the entire family, creating memories and traditions.


Food Trucks
Food trucks are colorful and flavorful as they are ubiquitous for daily workers in urban settings. They offer an enormous variety of fast, affordable, and delectable breakfasts, lunches, and even dinners. Stationary or roaming, food trucks fill a vital niche in our fast moving world, even through a pandemic.


Take Out & Delivery
Beyond the vast array of nail colors, the nail care industry encompasses tools for filing, shaping, painting, clipping, strengthening, enriching, and more. Previously almost exclusively targeted towards women, today's nail is innovative and inclusive.


Fine Dining
Fine dining, whether French, Japanese, or a delectable fusion of flavors from around the world, is finally making a comeback. Fine dining at its best is art - and the haute couture of the restaurant world.


Restaurant name ideas you can purchase instantly
You can use this list of top-tier brand names as inspiration, or you can purchase instantly with just a few clicks. All of our names come with a matching .com domain name, and a professionally designed logo, so you will have a fully realized brand name right out of the box. Purchase the name you like by clicking on it, or browse more names to find your brand idea.
Browse All Available Names
Generate Name Ideas for Your Specific Niche
Know your Brand
Before you start generating name ideas, you want to have a clear picture of what your brand is all about, and what you want it to convey. You can accomplish this by answering a few key questions about your business's purpose, your target market, and your brand's intended style and tone. The answers to these questions will form a succinct version of a
brand brief
. Use this brief as a reference when coming up with name ideas.
What does your company do? (Describe your business and the products and/or services that you will provide.)
Who is your target market? (Who is the intended customer for your product/service?)
What is Your company's mission statement? (Don't just put "to sell x products. This is your company's raison d'etre, its overarching purpose or mission, not specific to a single product)
What are your brand's style and tone? (What is your brand's personality/voice? Is it fun, innovative, hip, classic, etc..)
What does your brand aspire to? (Hopefully, your brand will grow over time. What do you envision it becoming when it is fully realized?)
What is your value proposition? (What is the key factor that differentiates yourself within your industry? Among your competitors?)
Think Outside of the Box
A common trap many first-time entrepreneurs fall into when naming their business is that they come in with a preconceived set of ideas about what their name should be. This usually results in some dry, over descriptive name ideas, often containing a single keyword the entrepreneur has fixated on.
For instance, there is nothing wrong with using the word "restaurant" in your name if it's a really good fit, but every name idea you generate shouldn't be just "restaurant"+ random word. Having all your name ideas revolve around a single word leads to repetitive, unoriginal names that can stifle your naming process from the start.
Plus, overly descriptive words just aren't the naming standard among successful companies. According to Crowdspring, 72% of the top brands are named after made-up words or acronyms.
Does that mean your brand name needs to be made up to be successful? No, many brands are successful with keyword names as well!
It just means that you should think outside the box when it comes to the styles and types of names you are open to considering. Casting a wider net name-wise will exponentially increase your options and your chances of finding the perfect name for your business along with it.
Follow Business Naming Best Practices
Every business name is unique, but the great ones do share some common linguistic traits. Here are a few that we think are important.
Great business names are:
Super catchy and memorable - Your name should capture attention immediately, and stick in people's heads for as long as possible.
Easy to pronounce and to spell - This makes it easier for people to understand and recall your name, and to tell their friends about it.
Unique yet familiar linguistically - You want your name to stand out in a crowd, yet not be so different that it confuses people.
Right fit for your specific industry - The vegan industry has a different style or tone than the tech industry, and you want to take that into account when naming your business.
Speak to something important to your brand identity - Make sure your brand name speaks to some aspect of your brand. This could be as simple as the vibe you want your brand to have, or it could highlight your business's differentiating characteristics, value proposition, etc.
Make Sure Your Name Can Expand with You
Great brand names not only highlight your business's initial products or services. They are also broad enough to grow with your brand as it expands.
For instance:
The founder of "Popeye's Chicken'' almost failed with his now wildly successful fried chicken restaurant. It seems customers weren't enticed by a place to eat chicken called "Chicken on the Run."
"Amazon" started as an online bookstore, but their brand name doesn't limit them to their beginnings. Rather, it points to their aspirations to become an e-commerce solution with vast scale and an amazing variety of products.
These broad names are generally harder (and pricier) to acquire than longer, more specific names like "Emmett Hill's Breakfast" You may be thinking "I'm just a small, local breakfast place, why do I need a fancy expensive name?"
Firstly, don't sell yourself or your business's potential short. Why limit your options? You don't know where you are going to be in a few years, how you'll expand, what new areas of a business opportunity may reveal themselves over time. Your brand name will be with you forever if you do it right. If you don't, you'll have to rebrand, which is almost always much costlier than just picking the right name in the first place.
Secondly, businesses that aspire are more likely to catch fire. Humans aspire, and they want the companies they align themselves with to aspire as well. So even if you don't have big plans for your business, you want to give your customers the impression that you do, and show them that you are on the same level as your competitors, who do.
The fact is that thinking expansively and dreaming big when coming to your business name is just a good brand strategy, and you should incorporate it regardless of your immediate plans for your business.
Make Sure the Matching .com Doman is Available
If you plan on doing business online, you'll want a matching .com domain for your business name. Dot-com domains are often more expensive to acquire than other domain extensions, but they are worth it. Why do you need the .com, as opposed to another domain extension such as .net or .shop? Here are a few reasons why:
Reputability -One of the first indicators is your domain extension. If they see a TLD they aren't familiar with, they are
less likely to trust the website
, and the business it represents.
Authority - Dot-com domains are perceived as a status symbol because of their scarcity and relatively high price tag. Having a .com domain signals to your customers that your business is established enough to have a valuable asset (the .com version of your brand name) representing it.
Familiarity - .com is the most intuitive domain extension. When the internet launched, the ".com" became a defining term in the zeitgeist and has stuck, so much so that it is almost a brand in itself. When you tell someone the name of your business, they will automatically assume the domain extension is .com.
Try BrandBucket
BrandBucket's marketplace has a truly humongous selection of business names, and ALL of them are great. No more momentum-crushing bad name ideas. No more dead-ends. No more second-guessing. You'll find the perfect name for your business in no time, and even enjoy the creative process.
Ready to Get Started?
Find Your Name