What is a Premium Domain Name?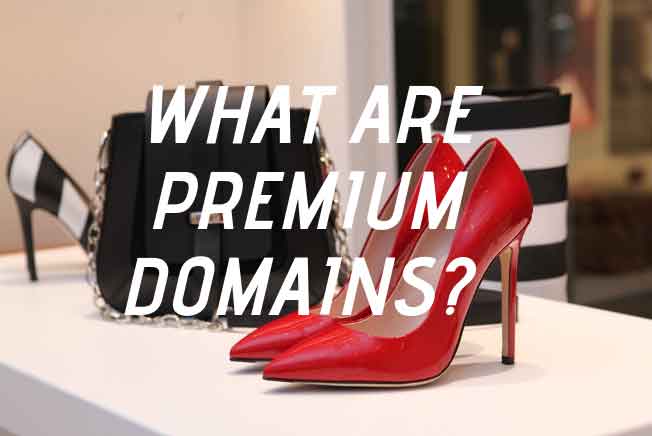 When looking for the perfect domain name for your business, it's easy to be overwhelmed by the sheer number of possibilities. Indeed, there are a nearly infinite amount of domains out there to choose from. But when it comes to choosing a domain for your business, not all domains are created equal. Some domains have powerful characteristics that make them better suited for business and branding than others. These domains are called premium domain names.
In this article, we will discuss all you need to know about premium domain names, their benefits, and how to acquire one for your business.
Premium Domain Name Definition
A premium domain name is a domain that possesses desirable qualities that give it a higher perceived value than normal domains. A premium domain name combines just the right mix of creativity, memorability and credibility to be a great brand.
Almost all premium domains are already registered. Luckily, many of these names are still available to purchase, albeit at a higher price than unregistered names.
There are a few reasons a premium domain may be available for sale.
The original company closing its doors
An entrepreneur wasn't able to launch their project
A domain speculator recognized a domain's business potential and registered it with the intent of reselling it at a profit.
Premium domains can vary greatly in price. You can find premium domains for a few hundred dollars. There are also premium domains that are valued in the millions.
Why Buy a Premium Domain Name?
Authority
Having a premium domain name is a status symbol. It tells people that your business means business.
Branding
Your business name, and by extension your business domain name, is often the first thing people learn about your business. Having a super catchy, easy to pronounce name allows you to make a powerful impression on your potential customers right out of the gate.
If you use a keyword name, you can give people an idea of what your business does, or how your business is different, upfront.
EXAMPLE
Blogger.com - A blogging platform.
About.com - About me profiles you can link too.
Soundcloud.com - Music stored in the cloud.
If you use a made-up or "vessel" name, such as google.com or zappos.com, you have a short, highly catchy vehicle in which to carry your brand messaging. Brandable domain names also have the potential to be used as a verb, such as when you "Uber" somewhere, or "google" something you want to find out about.
Trust
You need to establish trust with your customers to win their business. The internet is many things, but inherently trustworthy it is not. Because of this, people look for certain subtle indicators when making a judgement on whether your company is trustworthy or not. Your business domain name is one of those indicators. For example, which of the following domains would you be comfortable putting your credit card information on?
Marketinggiaaant.ru
Best-Local-Markketing1.com
LocalMarketing.com
Of course, number three is the answer. You subconsciously think that if they own a premium domain like LocalMarketing.com, they probably aren't a blatant scam. Of course, other factors such as your website and reviews will play a fact in your brand's trustworthiness, but it's important to have a reputable domain name, and having a premium name ensures a high trust factor.
Type-in Traffic
Some premium keyword domains have the added benefit of receiving type-in traffic, or traffic from people typing the domain URL directly into their browsers instead of searching for it on a search engine. However, this benefit is usually reserved for highly sought after one-word keyword names, and as less and less people are doing any sort of direct type-in, it will be less beneficial down the road.
Resale Value
Even though premium domains they are a sizeable investment, they retain their value and even appreciate over time. That means that even in the unfortunate scenario that your business doesn't work out, they can often be resold to another buyer at a profit.
Choosing a Premium Domain Name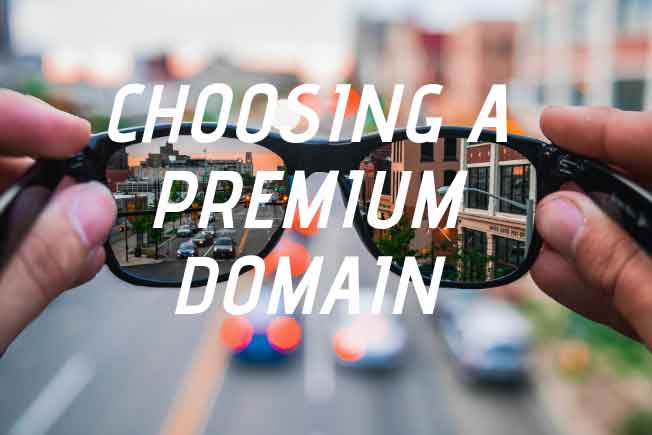 The first indicator that a domain name is a premium domain name is the price. Premium names are almost always significantly more expensive than unregistered domains. However, not every expensive domain name is a premium domain name. Often times, names are priced by the sellers. So just because a name is priced high, doesn't mean it is actually worth that much. You need to be careful to avoid imposters.
Here are some of the major characteristics of premium domains that will help you choose a premium domain name.
Short and Succinct: When it comes to the length domains, shorter is better. That's why almost every 4-letter name is considered premium, regardless of pronounceability. While there are exceptions, most premium names are under 14 characters, and if they utilize keywords, no more than two words.
Easy to Understand and Pronounce: Except in the case of 4-letter domains (which can be used as acronyms), premium domains are almost always easy to say and pronounce. Some premium names are misspellings of popular keywords, such as investt.com. In this case, the domain pronounceability should be able to be explained easily, i.e. "it's invest with two t's".
Memorable: As a business you want people to notice and remember your name. Premium domains plant a flag in the minds of your customers and stay there.
While memorability is hard to adequately quantify, there are a few common methods that premium domains use to achieve it:
So simple that it's hard to forget: WalkDog.com, FindKeywords.com
So catchy that it sticks in your brain like a melody: Envato.com, Etsy.com, GrubHub.com
Or it's based on a familiar expression: StumbleUpon
A clever mashup of words: Pinterest.com, Groupon.com,
A good way to tell if a name is memorable is to tell it to a few friends and see if they can recall the name one or two days later.
Desirable Keywords: Names comprised of or based on popular business keywords are often premium domain names. The more desirable the business keyword, the more expensive the name tends to be.
Scalable: You don't want to invest in a domain, build a business and brand around it, only for your business to grow out of it. You want your domain name to grow with your business. That is why most premium domain names are broad enough that they can encompass not only what your business is currently, but what may become in the future.
Uses a Popular TLD
The TLD a domain uses has a large effect on a domain name's value. This is because a TLD is a brand in itself, and people are generally more receptive towards a brand they know and trust. For this reason, the majority of premium domains are .com. The exceptions are domains using TLDs that are well-known within a certain industry. For instance, .ly and .io are popular extensions for tech companies. The .gg TLD is popular within the esports community. But unless you are sure that a new TLD is popular within your industry, stick to .com.
At BrandBucket, we have naming experts that judge each submission to our marketplace. We only accept the best, so you know that the premium domains on BrandBucket are actually premium.
How to Buy a Premium Domain Name
Acquiring a premium domain is a bit different than registering an unregistered name at a registrar. Because premium names are already registered and owned by other people, you will need to purchase the domain directly from the seller, or at whichever domain name marketplace it is for sale at. Here's how a premium domain acquisition is generally made:
1. Find out where it is for sale - Most premium domain names are at a marketplace like BrandBucket. You can generally find out where it is listed by going to the domain URL or doing a quick google search.
2. Purchase your domain - There are different ways to purchase a premium domain name. These options depend on the marketplace it is listed on, and the preferences of the seller. Here are some common purchase routes and some strategies for each one:
Buy Now: This is the easiest most straightforward way to buy a domain. The domain has a "Buy Now" price listed alongside the domain. In this case, you can simply add the domain to your cart, and complete your purchase for the prescribed price.
Make Offer: In many cases, there won't be a buy now price listed with a domain. Rather, there will be an option to make an offer. This type of listing can be more of a process, as it requires engagement from the seller in order to acquire.
If the owner is taking offers, put in a reasonable offer that's a little on the low side. The idea is that you want the offer to be serious enough to warrant a response from the seller, but low enough that you have some breathing room in future negotiations. In some cases, you may be able to see previous bids for a name. Use these as a reference point when determining the offer you want to make.
Auction: Some domain sellers who are more motivated to sell a domain quickly, or to drive up the price with a bidding war, will decide to put their domain up for auction. These auctions can last anywhere from a few days to a couple weeks. An auction allows potential buyers to competitively bid on a name. While buying a domain through auction can potentially save you some money, don't think you are going doing get lucky and secure a $10k name for $100. Most domain auctions have a reserve price that must be met before any bids are binding. If the reserve is not met, the auction is nullified.
When bidding on a name in auction, we suggest holding saving your bids until the auction is almost over. Most of the bidding action occurs in the final few hours, and you don't want to prematurely alert other bidders that they have competition, which could result in a bidding war that drives up the price even more.
3. Transfer the domain to your registrar account - After you buy a name, you will need to receive it. Many marketplaces make this easy, as they have their own escrow process. You simply create an account on a registrar the marketplace supports, and they transfer the name to you. This can take anywhere from 24-48 hours (if you have an account on the same registrar the domain is currently registered at), to 5-7 business days if you are transferring to a different registrar.
If the domain is for sale by owner, and not through a marketplace, you will need to facilitate the transfer yourself. This can be risky, this is why BrandBucket offers its transfer guarantee service free of charge for all of its names.
What if the domain isn't for sale?
In some cases, the premium domain you desire may not be for sale. However, you may still be able to acquire it.
1. Assess the situation
Active Business - If the site is active and thriving, you should probably just move on. There is little chance the owner would be willing to sell a name they use for an active business. Even if they were, using the domain of an already established brand could serve to confuse your customers.
Inactive Business or Personal Page: If there is an existing website for a domain, but it doesn't seem to be thriving, you may want to reach out and see if the owner would be interested in selling. Key things to look for are lack of new content, old website design, and broken links.
Parked Domain: If there is a parking page there, your chances are much higher that the owner would be willing to part with the domain. Do a quick search on the websites current SEO value using a service like SemRush.com to get an idea of how much they are making off parking the domain.
2. Contact the Owner
Once you have determined whether acquiring the domain is a possibility worth pursuing, it's time to find out who the owner is, and contact them.
A great place to start is a WhoIs Search on whois.com. Simply go to WhoIs.com, and type in the domain name. A WhoIs search will give you any public registration data on the name. Sometimes, the owners contact information will be right in the Domain Ownership Records. Or you may just get the owners name, or the name of a business entity who owns it. This is good too, as you can often find contact information googling that name or company.
However, many times this information is private. If this is the case, you can try a more in-depth domain data service like domainiq.com, which can tell you the emails and people associated with a domain.
If this still yields no results, you may want to turn to a broker service, like NameNinjas.com. A broker will find out who the owner is and contact them on your behalf.
3. Negotiate the Purchase
You'll most likely be trying to purchase from someone who can and will name any price they want. You know your brand and domain are essential things to invest in, but you also know when something is unfair. This all adds up to a lot of frustration and costly delay when you're simply trying to find the right name for your business and get to work.
Here's how BrandBucket helps - we connect businesses looking for amazing brands and sellers who want fair value for their premium domains into a simple and secure transaction. Our domain team brings its 40+ years of marketing, domain and linguistic knowledge to hand pick premium names and price them transparently and fairly. That means every premium domain you see in our marketplace is highly vetted, fairly priced and (best of all) guaranteed available, giving you a smarter way to brand your business.