Keyword Domains Can Box In Your Business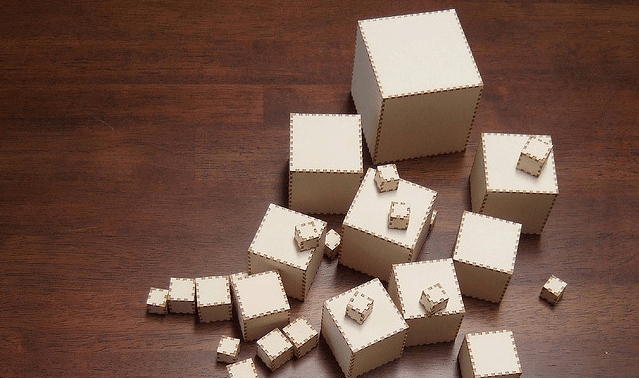 Photo by: Jared Tarbell

There are clear benefits to snatching up the perfect keyword domain name. It is nice to have a domain that explains what your start up does. However, as the hope of any business is to expand and grow – picking a specific keyword domain can put your business in a box that is hard to climb out of. Thus stunting your business growth by forcing you to rebrand or spend marketing efforts on redefining what your business does under your original keyword name.
A sales guy once said "When you're explaining, your losing." A perfect example of this common branding blunder of choosing a keyword domain that needs explaining is the soon to be launched Soap.com from the founders of Diapers.com. The domain Soap.com fits the criteria of a good domain – 4 letters and keyword based. However, the founders have already found themselves having to pitch hard that they sell more than just soap. On posts across the net you see their line about offering every day essentials "from cleaning supplies to toothpaste" – not just soap. Under this concept their ideal keyword domain would be Drugstore.com. However, this domain is already being used by a competitor. Besides, if I am looking for drugstore items to be delivered my type-in results leads me to the better keyword name Drugstore.com rather than Soap.com.
Niche websites are popping up successfully all over the net. People like to go to one place to buy one specific item, in many cases like Zappos.com and Diapers.com they start with one product and expand. The name Zappos has worked for them as a start up as it indicates shoes, based off of the Spanish word, but since they have expanded they have slogans like "We are a service company that happens to sell shoes. And handbags. And more…" and "Powered by service" because they don't need to explain that the brand name Zappos sells clothing like you may have to if they were called Shoes.com.  The founders of Diapers.com have found great success as well. However, their current slogan is "We deliver everything but the baby"  which shows how much of their marketing is geared toward explaining their website rather than developing an identity and personality like 'powered by service'.
So why did the founders of Diapers.com go with Soap.com if they clearly have to explain that they sell more than what the name indicates? Because it has worked. They found the right product for the right market. Busy people with baby's don't have the time or the free hand to go buy bulky baby supplies that are needed in repetition. You can expect to buy over 4700 diapers before your child is fully potty-trained. But will Soap.com have the same demand? Do people really need bulk drugstore supplies shipped?
It is by no means bad to tell people what your business is about. This conversation about your brandname creates a connection making it easy to remember your brandable business. The problem comes in when you are so focused on a short domain and type-in traffic that all your marketing efforts are spent explaining that you sell more than just soap rather than marketing an image, identity, and ideals behind a brandable business name that sells drugstore products. All this explaining indicates the loosing of potential customers. Cases like Soap.com prove the fine line between beneficial keyword domains or keyword domains that box you in and you have to fight and explain why you should stand out. Perhaps Soap.com would have been better off as dailyessentials.com or a brandable name like Kleenex to build on. Quidsi found the perfect niche for Diapers.com and the right product to make a business like that work. Will Soap.com be as successful?